Contributed by Larry Mort LJDMort@yahoo.com
Obituary — Democrat & Chronicle 10/12/03

Florence Mort Roden

Irondequoit: October 5, 2003.Predeceased by her daughter, Sharon Reuter on Aug.31,2003.
Survivors: Florence is survived by her daughter, Sheila(George) Reis; son in law Richard Reuter; 3 grandchildren, Gregory Reuter, Charlene (Rich) Mercurio and William Reis (fiancee Diana Hildebrand); 3 great grandchildren, Ian and Gina Mercurio, Noah Reuter; 1 brother Albert (Theresa) Mort; several nieces and nephews.
Services: Services and interment will be private at the convenience of the family. Those wishing may contribute to Webster Comfort Care 700 Holt Rd. Webster NY 14580. Arrangements, Nulton Mattie & Ashton Funeral Home.


---

From: Laurie Smith - chrislasmith@comcast.net

Susan Siddle Mort
Father: Jacob Siddle 1863-1909 born in England
Mother: Jane Naylor 1866-after 1930 born in England
Married: to Steven Mort about 1919
In the 1930 census, Susan and Steve are living with Steve's brother and father.
They have no children after 11 years of marriage.
In 1900 and 1910, Susan lived in Coal Township, Northumberland, PA with her parents (1900) and then her mother (1910).


---
The Post & Mail, Columbia City IN
March 1, 2003

Alice J. Mort, 76

May 20, 1927 - Feb. 29, 2004

        Alice J. Mort, 76, a resident of Pierceton, died at 11:50 a.m. Sunday, Feb. 29, 2004 at Mason Health Care Center in Warsaw. She had been in failing health for the past two months.         Born on May 20, 1927 in Whitley County, a daughter of James and Cora (Anders) Loe, her formative years were spent in the Columbia City area. Due to the death of her mother, she was raised by her aunt, Orpha Shepherd. She graduated from Columbia City High School in 1945 and continued her education at Ravenscroft Beauty College.         On Nov. 27, 1949 she was united in marriage to Leo C. Mort and they always made their home on a farm in Washington Township, Kosciusko County. Mr. Mort died Aug. 3, 1996.         A homemaker, she was a member of First Baptist Church in Pierceton where she served as pianist and Bible School director. A member of a home extension club, she was also a 10-year member of 4-H, a leader for the Pierceton Hayseeds 4-H Club and a member of Kosciusko County Cattleman's Association.         Survivors include two daughters, Karen (Calvin) Imhoff of Pierceton; and Twyla (Andrew) Chalk of Mansfield, Ohio; two sons, Dale (Wendy) Mort and James (Jill Landrigan) Mort, all of Pierceton; eight grandchildren; special friends, Kyle and Kristin Quick, Holly McCarty and Wanietta Mort, all of Huntertown; six step-grandchildren; a sister, Patricia (Paul) Ulrey of Warsaw; and two half-brothers, Arthur Loe and James L. Loe, both of Columbia City.         In addition to her husband, she was preceded in death by a granddaughter; a sister, Charlotte Loe; a brother, Ralph Loe; and two half-brothers, Franklin Loe and Dale Loe.         The funeral service is at 1:30 p.m. Thursday, March 4, at First Baptist Church, 208 W. Market St., Pierceton, with the Revs. George Paiva and Ken McGarvey officiating. Burial is at Hillcrest Cemetery, Pierceton; Visitation is from 2 to 4 and 6 to 8 p.m. Wednesday at Smith and Sons Funeral Home in Columbia City, and one hour prior to the service Thursday at the church.         For those who wish, memorials may be made to the donor's favorite charity.                
---


From Larry Mort, 321 Broadway 3rd Floor; New York City, NY  10007

Found this on my (John Mort) Great Grandfather's sister Frances (Fannie) Mort

        Frances (Fannie) Mort	b. 4/23/1860    d. 8/25/1903
      m Frederick Cline 	b. 12/25/1848   d. 5/29/1923
        Children:
	   Anna Cline               8/06/1881
	   William Cline            5/24/1883
	   Walter Cline	           11/04/1884
	   Clarence Cline           4/14/1886
	   Mary Cline               9/13/1887   d. 1895
	   Harry A. Cline           4/15/1889
	   Delphia Cline           12/12/1892   d. 1893
	Frederick Cline by 1st marriage had child:
	   Daisy Cline             26-Feb-1876 
        So he married Fanny Mort some time after this
        Possibly in East Palestine Columbiana Co, Ohio.					



---
Reminder to visit the Mort pages by Ernie Mort at : http://www.erniemort.com.

The English Morts: http://www.erniemort.com/mortenglish
The American Morts: http://www.erniemort.com/mortamerican/
Mort Charts: http://www.erniemort.com/mortcharts.htm
Mort Notes: http://www.erniemort.com/mortnet
Mort Photos: http://www.erniemort.com/mortphotos.htm




---
1881 History of Clark County, Ohio


The following were members of Company I, Eighth O. V. C'., but were not Members of Company I, Forty-fourth O. V. I..

John Mort

COMPANY I (BOWN'S), ONE HUNDRED AND FORTY-SIXTH REGIMENT, O. V. I.

John Mort




---
1882 History of Montgomery County Ohio
Perry Township, Page 371-372:

PHILIP CRAWFORD, farmer, P. O. Johnsville, born in Frederick County, Md., September 16, 1818; is a son of Joseph and Margaret (Mort) Crawford, natives of Pennsylvania, but who emigrated to Ohio and located in Montgomery County in 1829, where he lived till his death, which occurred in 1832 ; his wife died in 1854. They were parents of four children--Catharine, Philip, Elizabeth and Lydia. The grandfather, Crawford, was a native of' England, and lived but a few years after coming to America, and bat little is now known of his life. Our subject was about eleven years of age when brought to this county by his parents, and about fourteen when his father died, after which he was raised by his mother till he grew to manhood ; was married December 28, 1843, to Jane, daughter of George and Mary Purcell, natives of Pennsylvania, but who became early settlers of Preble County and later of Warren County. They were parents of six children; four now living--Foster, Jane, Thomas and Harvey. Jane was born in Warren County. Mr. Crawford and wife have had ten children; seven now survive--John, Mary, Leander, Daniel and Isabell (twins). Agnes and Alice. Mr. Crawford's entire life has been spent in this township since eleven years of age, and has followed the trade of bricklayer until 1875, since which he has given his attention to farming ; he bought the farm upon which he now lives in 184S. purchasing the same of Jacob Harry, and in the spring of 1849, located upon the farm with his family, where he has since resided, a period of thirty-two years. Mr. Crawford commenced in life a poor man, and by his own labor, industry and good management has accumulated a good competency; he now owns 150 acres of land. constituting three farms, the greater part of which is in good cultivation with good improvements. Mr. Crawford, as a citizen and neighbor, is held in high esteem ; has been Assessor of his township fifteen years. This is an example of success, obtained purely by his own labor and industry, which is worthy of imitation, and which, placed upon the pages of this history, we trust may be read by and produce its salutary effect upon the rising generations.
---
Obituaries at the St. Joseph County Public Library 304 S. Main Street South Bend, Indiana 46601

34	Mort, James A.	 	Lutz	FL	1996
35	Mort, Mary E. (Mrs.)	323 1/2 Grand Ave.	Lakeville	IN	1988
36	Mort, Reverend C. F. 	 	Chicago	IL	1930


Name: 	Mort, Reverend C. F.
City: 	Chicago, IL
Notes: 	Former resident
Source	            Date Published	Section and/or Page
South Bend Tribune	12/15/1930	 	2, p. 6


Name: 	Mort, James A.
City: 	Lutz, FL
Notes: 	Former resident of Lakeville, IN.
Source	            Date Published	Section and/or Page
South Bend Tribune	03/20/1996		p. B5

Name: 	Mort, Mary E. (Mrs.)
Address: 	323 1/2 Grand Ave.
City: 	Lakeville, IN
Source	            Date Published	Section and/or Page
South Bend Tribune	02/15/1988		p. C5
South Bend Tribune	02/16/1988	 	p. C5
South Bend Tribune	02/17/1988	 	p. C5

---
Contributed by Wendy Acetto — waccetta@adelphia.net

A TRIBUTE
published in the pages of
THE NIAGARA GAZETTE
NIAGARA FALLS, N.Y.
Nov 28 1967
Memorial Obituary

[PHOTO]
Entered Into Eternal Rest
Monday, Nov. 27, 1967


        Mrs. Mort,         Mother of 11,         Dies at 72


  Mrs. Emma Ruth Mort, 72, of
7013 Pine Ave., mother of 11
children all of whom are still
Living, died Monday (Nov. 27,
1967) at homas after a long ill-
ness.
  A native of Pittsburgh, Pa.,
she lived in Niagara Falls for
the last 29 years and was the
wife of Crad Mort.
  In addition to her children,
Mrs. Mort is survived by 25
grandchildren and 39 great-
grandchildren.
  In addition to her husband,
survivorcs are nine sons, Emer-
son, Willard, Harold, Marion,
David, Glenn and Wayne Mort,
all of this city; Craig Mort, El
Monte, Calif. and William Mort
Philadelphia, Pa.; two daughh-
ters, mrs. Beverly Knarr, this
city, and Mrs. Mary Smith,
Ridgecrest, Calif., and a 
brother Robert Vane, Pitts-
burgh, Pa.
  Funeral services will be held
Thursday at 2 p.m. at the bell 
Funeral Hone, with the Rev.
Calton Charpenter, of Calvary
Baptist Church, officiating, Bur-
ial will be in Memorial Park
Cemetery.
  Friends may call today from
7 to 9 p.m. and Wednesday from
2 to 5 and 7 to 9 p.m.

---
A TRIBUTE
published in the pages of
THE NIAGARA GAZETTE
NIAGARA FALLS, N.Y.
Aug 29 1978
Memorial Obituary

[PHOTO]
Entered Into Eternal Rest
Monday, Aug. 28, 1978

Crad Mort

  Crad Mort, 88 of 7913 Pine
Ave., died Monday (Aug. 28,
1978) in Memorial Medical
Center after a short illness.
  A native of Lilly, Pa., he 
moved to Niagara Falls in 1939
and was employed as a safety
Advisor at the DuPont Co., for 
33 years before retiring in 1962.
He was a member of the Du-
Point 25-Year Club.
  He was the father of 13,
seven sons and a daughter sur-
viving.  Emerson, Willard,
Miron, Glenn Mort, all of 
Niagara Falls, David Mort of 
Princeton, N.J., Craig Mort of
Heriston, Ore., and William
Mort of Philadelphia, Pa., and 
Mrs. Fred (Beverly) Knarr of 
Niagara Falls.  Also0 surviving
are 33 grandchildren, 74 great-
grandchildren and give great-
great-grandchildren.
  Private memorial services
will be held at the convenience 
of the family with the Rev.
Lawrence Maley officiating.
  There are no prior visitation
hours.
  If preferred, contribution
may be made to the Buffalo
Eye Bank, the family siad.
  Arrangements are by the 
Thoney Funeral Home.

---
Beverly D. Knarr
Lifelong Falls resident
enjoyed blaying bingo
[PHOTO]


  Beverly D. (Mort) Knarr, 66 of
Elmwood Avenue, died Monday
(March 11, 1996), at her home while
receiving care from Nigago Hospice.
  The lifelong resident of Niagara
Falls, was born Jan. 1, 1930, the
daugher of Crad and Emma Lowery Mort.
  Mrs. Knarr enjoyed playing bingo.
  She is survived by her husband, Fred J.
Knarr of Niagara Falls; a son Thomas L.
Knarr of Niagara Falls. two daugh-
ters, Fredda Kramer and Beverly
Finlan, both of Niagara Falls; two
brothers, David "Tubb" Mort of 
South Plymouth and William Mort
of Philadelphia, Pa.; seven grand
children; eight great-
grandchildren; and several nieces
and nephews.
  She was the sister of the late
Emerson, Williard, Harold, Marion,
Glenn, Wayne and Craig Mort and
Mary Smith.
  Visitation will be from 2 to 4 and
 7 to 8 p.m. Wednesday at the Otto 
Redanz Feneral Home, Michigan
Avenue and 10th Street.  The Rev.
James D. Smith will officiate ser-
vices at 8 p.m. Wednesday, follow-
ing visitation.  Interment will be in 
Niagara Falls Memorial Park Cem-
etery, Lewiston.
  Contributions may be made to 
Niagara Hospice, 460 Wheatfield
St., Suite 201, North Tonawanda,
N.Y. 14120
---
KNARR, Beverly D. (Mort)
Age 66 of Elmwood Ave., at home, March 11, 1996. Wife of Fred J. Knarr. Morther of Thomas L. Knarr; Beverly Finalna and Mrs. Richard (Fredda) Kramer, all of Niagara Falls, N.Y. Sister of David "Tubbs" Mort, Binghamton, N.Y., William, Phildaphia, PA., and hte late Mary Smith; Emerson; Willard; Harold; Marion; Glenn; Wayne and Craig Mort. Also survived by 7 grandchildren, 8 grand-grand chidlren and several nieces and nephews. Friends my call Wednesday 2-4, 7-8 PM at the OTTO REDANZ FUNERAL HOME, Michigan Ave. at Tenth St., where funeral services will be held 8 PM Wednesday evening with Rev. James D. Smith officiating, Interment in Memorial Park Cemetery. Contribution to Niagara Hospice, Inc.
Mar. 13
---
BEVERLY D. (MORT) KNARR
IN LOVING MEMORY
MARCH 11, 1996
Your were always there for me. The tender windw that carried me, The light in the dark shingin your love into my life. You've been my inspiration. Through the lies you were the truth My world is a better place because of you.

Lovingly remembered by, Your Family
---
(Memorial Card)

In loving Memory

BEVERLY (MORT) KNARR

Date of Birth
January 1, 1930
Date of Death
March 11, 1996

I am home in heaven, dear ones;
Oh, so happy and so bright!
There is perfect joy and beatury
In this everlasting light.
All the pain and gried is over,
Every restless tossing passed;
I am now at peace forever,
Safely home in heaven at last.
Then you must not grieve so sorely,
For I love you dearly still;
Try to look beyond earth's shadow,
Pary to Trust our father's Will.

Officiating Clergy
Rev. James D. Smith


---
South Philadephis Review
July 22, 1999 page 51

[PHOTO]
The Family Of
William Mort
(Sailor Bill)
would like to tahnk relatives, Longshoremen Local
1291, people from the First Union Center, the doc-
tors from Pennsylvania Hospital and sone of my
Neightbors during our loss. Thank you, Dorothy
Mort, Children, Alice, Sue, Clyde, Tommy, David,
Robin and Grandchildren.


---
Jennifer I.
Hankey
Niagara Falls native was married in Florida


Jennifer I. (Mort) Hankey, 50 of 
the Schoellkopf Health Center,
died Tuesday (Aug. 24, 1999) in 
the center after a lengthy Illnesss.
  She was born May 2, 1949, in 
Niagara Falls, the daughter of 
the late Wayne D. and Viola Mort.
  On July 10, 1978, she married
Robert Hankey in Sanford, Fla.
  Mrs. Hankey enjoyed crochet-
ing, rollerskating and bino.
  In addition to her husband, she 
is survived by a son, Kenneth
Hankey of Niagara Falls; two
daughers, Kimberly Cramer and
Theresa Hankey, both of Niagara
Falls, a sister, Jean Wing of San-
ford; five grandchildren; an uncle;
and several nieces, nephews and 
cousins.
  She was the sister of the late 
David Mort and Brian Mort.
  Visition will be from 2 to 4 and 
7 to 9 p.m. Tursday at the M. J.
Coulucci & Son Funeral Home, 468
19th St. Services will be held Fri-
day at the family' conveniecne.
  Burial will be in Oakwood
Cemetery.
---
IN MEMORY OF
JENNIFER I. HANKEY
Born: May 2, 1949
Died: August 24, 1999
Interment
OAKWOOD CEMETERY


M.J. Colucci & Son Funeral Chapel
---
Naturalizations and Associated Documents
Ontario County New York

Abreviations used: FOL=folder; DECI=Declaration of Intent Year(to become a citizen); PETI=Petition Year (to become citizen); oath=oath of allegiance;
AFFI=Affidavit; REPO=Report (character reference);CERT=naturalization certificate; AKA= also known as (usually original name).


LAST NAME         FIRST NAME       BOX  FOL  DECI  PETI  OATH  AFFI  REPO  CERT  
MORT              JOHN             3A   3    1846        1846  1846  1846    

---
1905 History of Crawford County Kansas
A Twentieth century history and biographical record of Crawford County, Kansas
Lewis Publishing Company, Chicago, IL : 1905
Pages 319-322

JOHN MORT

John Mort, senior vice of Shiloh Post No. 56, G. A. R., and one of the honored veterans of the Civil war residing in Crawford county, was born in Tuscarawas county, Ohio, August 15, 1833. A man now past the seventieth milestone of life, and among the remainder of the great host of our ex-soldiers who will soon be marching on, his career has been filled with useful deeds both to himself and family and to his country, and he deserves the high esteem in which he is held by his fellow citizens of Crawford county. Mr. Mort has been a resident of Crawford county since 1881, and has thus been identified with the county throughout its most progressive and important period of history.

Mr. Mort enlisted at Lima, Allen county, Ohio, August 22, 1862, in Company D, One Hundred and Eighteenth Ohio Infantry, under Colonel Mack and Lieutenant Colonel Walkup, and his company had three captains, successively, Berth, Taylor and Doty. From the camp at Lima they went to Cincinnati, and during Morgan's raid crossed the Ohio and went to Covington, Kentucky. After the siege of Knoxville and the battle at Chickamauga they took part in Sherman's great campaign, being in the battles of Resaca, Kenesaw Mountain, New Hope Church, Burnt Hickory, and then in the siege of Atlanta. On the 22d of July, 1864, at Atlanta, while Mr. Mort was filling his canteen with water General McPherson rode up and asked him for a drink, which was gladly given. That was the gallant general's last drink, for only a little while afterward he was killed, being the second Union general slain on that day. From Atlanta Mr. Mort was in the forces sent back to engage Hood in the battles at Franklin and Nashville. Thence he was sent to Washington, and down into the Carolinas, joining Sherman's army again, and was with his command at Raleigh and other points in North Carolina. He received several injuries during his service, and throughout made an excellent record as a soldier. He was honorably discharged at Cleveland, Ohio, and then returned to his old home in Allen county.

Mr. Mort was a son of George and Polly Mort. His father was a native of Maryland, and was a soldier in the war of 1812. He died in Allen county, Ohio, at the age of eighty-eight, while his wife, who was a native of Maryland, died in Tuscarawas county, at the age of sixty. The father was a stonemason by trade, and in the war of 1812 helped build the fort at Baltimore. He later took up the trade of cooper. There were nine children in the family, five sons and four daughters.

On his arrival in Crawford county in 1881 Mr. Mort bought a farm of eighty acres, and he still owns this valuable place near Cherokee. He was married in Allen county, Ohio, at the age of twenty-three to Miss Christina Harpster, a daughter of Jacob Harpster. She died in Ohio in 1873, having been the mother of nine children, eight of whom are living, namely: Isaac, Thomas, Daniel, Sarah J., Homer, Thomas, William, Frank and Clara. Mr. Mort then married his present wife, Lucinda Swank, the widow of Francis Swank. Mr. Swank was a soldier in Company E of the Forty-fifth Ohio Infantry, was taken prisoner at Knoxville and spent thirteen months in the southern prisons at Belle Isle, Salisbury and Andersonville. He left one son, George W. Swank, of Pittsburg, Pennsylvania. Mrs. Mort was a daughter of B. Dickerson. Mr. and Mrs. Mort have two children, John Amos and Retta Della Greenwell, of this county. Mr. Mort is a stanch Republican, and, as has been stated, is very prominent in local Grand Army circles.
---
1919 Standard History of Kansas and Kansans by William E. Connelley
Chicago: Lewis Publishing Co., 1919
Pages 2292-2293
Ivan R. Mort
        IVAN R. MORT is a well known banker of Graham County, and is cashier of the American State Bank of Hill City. Nearly all his active business experience has been along the line of banking, and his friends and associates regard him as one of the able men in banking circles of the state.         Mr. Mort was born at Keosauqua, Iowa, August 12, 1878. His ancestors were originally Scotch and were colonial settlers in Pennsylvania. His grandfather, Conrad Mort, was born in Ohio in 1818, and at an early time emigrated to Iowa and settled in Van Buren County, where he died in 1892. Aaron Mort, father of Ivan R., is a resident of Graham County, Kansas, and is one of the successful few who survived the experiences of pioneering in this section of the state. He was born also at Keosauqua, Iowa, August 12, 1848, grew up and married there, and all his experience has been as a farmer. He came to Graham County, Kansas, in November, 1878. He homesteaded 160 acres and took a timber claim of like area, but occupies the former, and altogether owns 640 acres, developed as a fine grain and livestock farm. This farm is twelve miles south of Hill City. Aaron Mort is a democrat, and was one of the first men elected to the office of county commissioner in Graham County. He has also been faithful in his religious duties and is a member of the Methodist Episcopal Church. Aaron Mort married Charlotte Dahlberg, born in Stockholm, Sweden, in 1844. To their marrage[sic] have been born three children: Alvin Ross, a real estate broker at Hill City; Ivan R.; and Carl G., who lives on the home farm.         Ivan R. Mort was too young to remember any of the incidents of the family emigration from Iowa to Graham County, Kansas. As a boy he attended the rural schools of that county, and lived on his father's farm to the age of twenty-four. During 1902-03 he attended the Kansas Wesleyan Business College at Salina.         His first banking experience was as bookkeper[sic] and stenographer with the Graham County State Bank at Hill City. A year and a half later he transferred his services in the same capacity to the American State Bank, and after a year was promoted to assistant cashier. He has been cashier of the bank since November, 1908. The American State Bank was established December 24, 1904, and opened its doors for business January 5, 1905. The officers are: Charles Sperry, president; O. P. King, vice president; and Ivan R. Mort, cashier. The bank, located on Pomeroy Avenue, was capitalized at $20,000, with surplus and profits of equal amount.         Mr. Mort is identified with Hill City in many other relations. He was elected its mayor in April, 1915, and was re-elected in 1917 for another two-year term. He is also treasurer of the local school board and his bank is a member of the Kansas Bankers Association and the American Bankers Association. He is an independent in politics, is a member of the Methodist Episcopal Church and is past master of Hill City Lodge of Masons and a member of Colby Commandery of the Knights Templar. He also belongs to Hill City Lodge of Odd Fellows, of which he is a Past Grand, and of Hill City Lodge Ancient Order of United Workmen, and Hill City Chapter of the Eastern Star. He owns an attractive suburban home, including a modern residence and ten acres of grounds.         December 25, 1907, in Graham County, Mr. Mort married Miss Myra L. Allen, daughter of Robert and Anna (Higgins) Allen. Her mother is living in Hill City. Her father, now deceased, was an early day farmer of Graham County. Mr. and Mrs. Mort have two children, Allene, born in February, 1909; and Melva, born April 30, 1912.
---
In 1938 G.C. Mort, was Coroner for Liverpool, England.
---
Wednesday, May 14, 2003
Las Vegas Review-Journal
Deaths
William Mort
William Mort, 76, died April 24 in a Las Vegas hospital.
He was born Dec. 19, 1926, in Ohio. A Coast Guard veteran, he was certified mechanic and a longtime resident of Las Vegas.
He is survived by his wife, Linda.
Services will be at 11 a.m. Saturday at Gateway Baptist Church. Harrison-Ross Mortuary handled arrangements.
---
North County Time
The Califorian
Obituaries - 10/6/03
Hallie Mort, 72
OCEANSIDE ---- Hallie J. Mort, 72, died of cancer on Monday, Feb. 24, 2003, in Rancho Bernardo.
Born Jan. 23, 1931, in Ogden Weber County, Utah, she was a resident of Oceanside for 12 years. She retired from a career in Real Estate in 1996. Mrs. Mort is survived by her husband of 33 years, Charles Mort of Oceanside; son Bradly F. McLean of Tucson, Ariz.; son and daughter-in-law Tony and Hollie McLean of Escondido; step-daughter Sandra Jean Garrett of Grover Beach; stepsons Charlie Mort of White Hills, Ariz., Larry Mort of Oceanside, and Ricky Mort of San Luis Obispo; sister Maxine Hansen of Oceanside; and grandchild Stacie Corrine McLean. There will be a viewing from 4-8 p.m. Thursday, Feb. 27, at Eternal Hills Memorial Park, 1999 El Camino Real, Oceanside. There will be a funeral service at noon Friday, Feb. 28, at L.D.S. Church, 3990 Mesa Drive, Oceanside. Bishop Anderson will officiate. Burial will follow at 1:30 p.m. at Eternal Hills Memorial Park. Eternal Hills Memorial Park is handling arrangements.
---
North County Time
The Califorian
Obituaries - 10/6/03
David Jacobsen, 68
SAN MARCOS - David Jacobsen, 68, died Thursday, Sept. 4, 2003, at Scripps La Jolla.
Born Feb. 17, 1935, in Kalamazoo, Mich., he lived in San Marcos for nine years. He was a historian and enjoyed reading, water and off-road adventures. Mr. Jacobsen was preceded in death by his mother, Leah Jacobsen, in 1968; and sister Mary Lee Flick in 1986. He is survived by his wife of 49 years, Donna Jacobsen of San Marcos; daughters and sons-in-law Debra and Charles Mort of Golden Valley, Ariz., Lynne and Al Krahn of Payson, Ariz., Venus and Mike Rosone of Henderson, Nev., and Misti Jacobsen of Waynesboro, Pa.; brother and sister-in-law Richard and Janice Jacobsen of Watervelt, Mich.; grandchildren Angela, Chris, Ranay, Spencer and Schuyler; and seven great-grandchildren. A memorial service is scheduled for 10 a.m. Saturday, Oct. 11, at Rancho San Marcos, 971 Borden Road in San Marcos. North County Cremation Service is handling arrangements.
Charles Mort, 71
NORTH COUNTY - Charles "Chuck" Mort, 71, died Saturday, Oct. 4, 2003, at his home.
Born Feb. 19, 1932, in Twin Falls, Idaho, he lived in North County for 51 years. He was a plumb master. He served in the U.S. Army National Guard. Mr. Mort was preceded in death by his wife, Hallie J. Mort, in 2003. He is survived by his sons and daughters-in-law, Charles and Debbie Mort of Arizona, Larry and Laurie Mort of Oceanside, Ricky Mort of San Luis Obispo, Tony and Hollie McLean of San Marcos and Bradley McLean of Tucson, Ariz.; daughter and son-in-law Sandra and Tony Garrett of San Luis Obispo; nine grandchildren; and eight great-grandchildren. Viewing is scheduled from noon to 12:45 p.m. and funeral service at 1 p.m. Saturday, Oct. 11, at The Church of Jesus Christ of Latter-day Saints, 3990 Mesa Drive, in Oceanside with Bishop Jack Anderson officiating. Burial will follow at Eternal Hills Memorial Park with Bishop Anderson officiating. Eternal Hills Mortuary is handling arrangements.
---
Tri City Record
Watervliet, Michigan
Obituaries - 10/6/03
MARY FRANCES MORT
Mary Frances Mort died Wednesday, June 25, 2003, in Watervliet.
Frances' life began July 5, 1930, in Black Oak, Arkansas. Frances worked various jobs throughout her life, however, what she enjoyed most was taking care of her home and family. In her spare time Frances enjoyed crocheting, knitting, gardening and she was a quilt maker. Friends joined Frances' family for a graveside service Friday, June 27, at 2 p.m. at North Shore Memory Gardens, with the Rev. David Hills officiating. Memorials may be made to Borgess Hospital Hospice and Visiting Nurse. Hutchins Funeral Home, Watervliet is assisting the family with arrangements. Her loving family includes: her husband, Roy Mort of Watervliet; three children - Michael and his wife Marsha Mort of Grand Rapids, Shirley and her husband Tom Lemon of Grand Haven and Dennis and his wife Rhonda Mort of Covert; grandchildren; two brothers, Junior Berry of Caraway, Ark., and Bill Berry of Newbern, Tenn.; four sisters, Kathryn McCoy of Charlotte, Mamie Kelley of Marion, Ark., Lois Pettit of Koscuisko, MS., and Inez Lowery of Trumann, Ark. She was preceded in death by her parents, Simmie and Lucy Estelle (Simmons) Berry; three brothers, Lawrence Berry, Lemmie Berry, and Herrel Berry; and a sister, Joyce Kent.
---
http://www.takver.com/history/myunion/myunionapp04.htm
Thomas Sutcliffe Mort
1817-1878
(a) Thomas Sutcliffe Mort (1817-1878), whose interests spread into many fields of endeavour, formed a docking company with Captain Rountree in Waterview Bay in 1855. By 1861, Rountree had left the company to the sole ownership of Mort, who leased the dock from time to time to various shipping companies and individuals, including Rountree who had set up his own shipwrighting business. Mort set up the docking company under the managership of J.P.Franki in 1869. The company reformed under the title "Mort's Dock and Engineering Company", which later, in 1875, became a limited company. By that time, however, Mort had relinquished the reins to a Board of Directors.
He had many advanced ideas for his times, including his proposal to sell shares in the business to some of his employees. While it soon became apparent that the employees to be favoured did not reach below foremen, his reasons for making the offer were clear enough as quoted from Mort's speech to his employees by Alan Barnard in his Visions and Profits (page 127-8):
        I as a capitalist, and you as workers, should be bound together with the cords of common interest".
To Laidley, his son, he confided:
        I look upon this arrangement as of vast importance to the success of the concern because it will secure me against strikes, 8 hour system, and enable me to enforce piece work which latter is the only way of breaking down wages, but your leading men must participate in the benefits resulting from such a system or you cannot by forcability (sic) carry it through.
Mort's many and varied interests, in construction of trams, in dairy farming, in refrigeration for overseas export of meat, etc., was no where more interesting than his revolutionary (for his times) thoughts on "the high cost of dying". He declared that at funerals there should be only
        "a plain coffin --- free of that heathenish tinsel which is so absolutely a mockery on the coffin of a Christian."
And on another occasion he expressed the view
        Surely a slow trot would be as solemn as the conventional walk now observed.
And the manner in which he was buried followed the pattern which he had outlined at a funeral reform meeting:
        The coffin to be plain and as far as may be free from adornment; no pall to be used, neither scarves nor hatbands to be worn, nor gloves to be provided, no mutes to be employed nor plumes used; the hearse to be plain, and ordinary vehicles to be used instead of mourning coaches, the vehicles to move at a quicker pace, no funeral procession to be held, mourners and other relatives to meet at the burial ground; no invitations to funerals to be issued; costly mourning to be avoided, ordinary attire, with the addition of black crepe or a hatband to worn.
Unveiling Mort's Statue, Macquarie Place, Sydney, 1883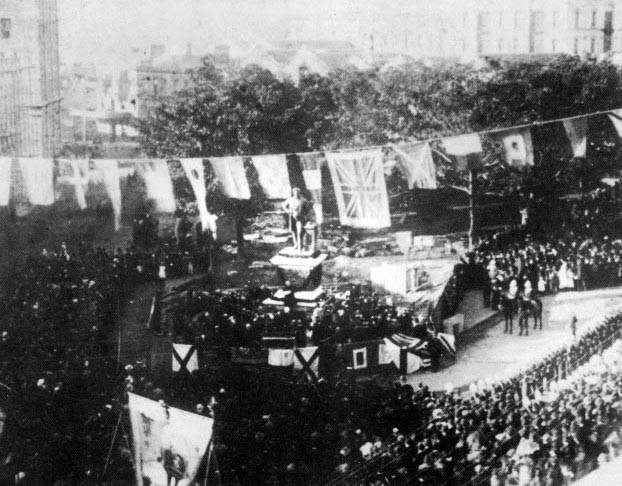 Unveiling statue of T.S.Mort, Macquarie Place, Sydney, 1883.
The Governor's unveiling of Mort's statue in Macquarie Place, in the city, in 1883, was witnessed by hundreds of workers who had voluntarily forfeited a day's pay in order that they might be present for this final tribute to their late employer.
This Page is http://www.takver.com/history/myunion/index.htm
© Issy Wyner. All Rights reserved except for nonprofit, union or educational use, please credit source.
Last modified: January 19, 2003
---
Guide to Australian Business Records
http://www.archivists.org.au/busrec/biogs/ABE0117b.htm

Mort's Dock & Engineering Co Ltd (1875 - )

Location:
The foundation stone of the dry dock (Mort's Dock) at Waterview Bay (Balmain) was laid in 1854 by T S Mort, Captain T S Rountree and J S Mitchell, trading as Rountree & Co. In 1861 Mort became the sole owner, expanding the dock and establishing an engineering works. Partnership with Thomas Macarthur 1866-69. After a brief attempt to work joint ownership with his employee's, Mort formed Mort's Dock and Engineering Co Ltd in 1875. A floating dock was constructed in the 1880s and another large dry dock at Woolwich in the 1890s. The company had a chequered career in the first half of the twentieth century and was liquidated in 1961.
---
http://www.traveldownunder.com.au/Queensland/Southern_Downs/Historic_Walk_Through_Mort_Estate.asp
Historic Walk Through Mort Estate
The Mort Estate, Toowoomba's oldest subdivision, was established in 1862 and its intriguing history and architecture can now be enjoyed on a self-guided walk through the precinct. This pleasant walk starts and finishes at Toowoomba's historic Railway Station. Follow the trail of historic sites along Taylor Street, Boulton Terrace, Norwood Street and Mort Streets. Drop in to the Toowoomba Visitor Information Centre (86 James Street) or the City Information Centre (476 Ruthven Street) for a copy of the brochure to guide you along your way. Allow a minimum of one hour for a brisk walk and longer for a leisurely stroll.
Open Time:
The walk is best enjoyed during daylight hours.
Disabled Access:
Streets are wheelchair accessible, but some are best navigated with assistance.
Children:
This walk can be enjoyed by the whole family.
Address:
Toowoomba Visitor Information Centre
Toowoomba, Queensland, 4350
Activities you can engage in:
City Sightseeing, Learning/Lessons/Tuition, Photography, Sightseeing, Walking,
Guest Facilities:
Cafe, Car park, Coach Parking, Access With Assistance for the Disabled, Restaurant Licensed,
Experiences you can enjoy at Historic Walk Through Mort Estate:
City, Educational, Historic/Heritage, World Heritage,
Historic Walk Through Mort Estate is suited to:
18-35's, Adult Getaway, Backpacking/Unstructured, Budget, Disabled, Empty Nesters, Family, Gay and Lesbian, Group, Romantic, Self-Drive, Senior, Single,
---
Kalamazoo Gazette, Kalamazoo, MI
Saturday, December 11, 2004
Joseph Mort
Pullman native Joseph R. Mort, 88, of Lake Hamilton, Fla., died Tuesday of heart disease.
Born Oct. 29, 1916, he moved to Lake Hamilton 28 years ago from Allegan, where he was a longtime resident.
He was a retired driver for Bender and Loudon Motor Freight in Kalamazoo.
He is survived by his wife of 63 years, Evelyn; two sons and daughters-in-law, Robert and Barbara Mort of Lake Hamilton and James and Judy Mort of Bloomingdale; six grandchildren; eight great-grandchildren; a sister, Florabelle Adams of St. Joseph; and a brother, Roy Mort of Watervliet.
His son Joseph C. Mort preceded him in death.
A memorial service was held Friday at Johnson Funeral Home, Lake Wales, Fla.
Memorial donations in Mort's name can be made to the American Heart Association, P.O. Box 21475, St. Petersburg, FL, 33742, or the American Cancer Society, 809 S. Florida Ave., Lakeland, FL, 33801.
Another obituary appears in the Allegan County News on Dec 8, 2004

---
http://www.ancestry.com/search/SurnamePage.aspx?ln=Mort
What does the Mort name mean?
Last Name: Mort

English (Lancashire): of uncertain origin. The most plausible suggestion is that it is a Norman nickname from Old French mort 'dead' (Latin mortuus), presumably referring to a person of deathly pallor or unnaturally still countenance, or possibly to someone who played the part of death in a pageant. However, it could also be the result of survival into the Middle English period of an Old English personal name, Morta, or an Old English vocabulary word mort 'young salmon or trout', both postulated by Ekwall to explain various place names (see for example Morcom).
Dictionary of American Family Names, Oxford University Press, ISBN 0-19-508137-4
---
Visit the http://www.erniemort.com/mortenglish/ English Mort Pages of Ernie Mort
---

JEFFERSON COUNTY, TN - CEMETERIES - Shady Grove Cemetery
http://ftp.rootsweb.com/pub/usgenweb/tn/jefferson/cemeteries/shadygr.txt

SHADY GROVE CEMETERY

This is off of Shady Grove Cemetery RD.

In memory of
MY HUSBAND
MARSHALL S. FOX
BORN
OCT. 30, 1858
DIED
MAR. 14, 1901

MAUDE S. FOX
AUG. 6, 1886
JUNE 12, 1948

MARY MORT FOX
OCT. 22, 1874
SEPT. 25, 1945

ARTHUR
MORT
BORN
MAR. 25, 1876

BESS MORT
DIED
DEC. 20, 1987

CALLIE
Wife of
G.R. MORT
BORN
JUNE 2, 1873
DIED
MAY 5, 1911

COMLEY A.
Son of
G.A. & M.L. MORT
BORN
FEB. 12, 1902
DIED
AUG. 17, 1904

G.R. MORT
1869 - 1938
At Rest.

GEORGE A. MORT
NOV. 18, 1861
JUNE 17, 1923

IN MEMORY
OF HENRIETTA
MORT WIFE OF
JOHN MORT WAS
BORN 21 OF
SEPTEMBER 1809
DIED 19 OF JUNE
1866

JOHN MORT
BORN
May 7, 1800
DIED
Nov. 17, 1886

JOHN L. MORT
JAN. 11, 1847
OCT. 26, 1931
MORT

MAHALA
MORT
BORN 1821
DIED
MAY 9, 1868

MARY FRYE MORT
JULY 20, 1872
OCT. 19, 1955

REBA MORT
DIED
MAR. 22, 1998

SARAH J.
wife of
J.L. MORT
SEPT 11, 1843
DEC. 6, 1920
MORT

MOTT
JOHN MOTT
AUG. 28, 1870 - SEPT. 23, 1931
HIS WIFE
LOTTIE NEWMAN
MAR. 8, 1867 - AUG. 20, 1956

PECK
PAUL GEORGE    FRANCES MORT
MAY 16, 1900   NOV. 29, 1906
DEC. 28, 1989  AUG. 14, 1987

---
The Whitney Family of Connecticut
by Stephen Whitney Phoenix
Page 276-277
Children of Samuel and Charity (Foote) Sanford.
V. Philo Sanford, b. at Sandy Hook, in Newtown, Conn., 11 July I 796; a machinist and worker in wood; married, 21 Aug. 1826, at Niagara, Upper Canada, by Rev. Thomas Crane, to Martha Beatrice Burgess, dau. of William and Martha (Mort) Burgess, of Newtown. She was born in Lancashire, England, 15 June 1808, and came to America when four years old. They dwelt in Rochester, N.Y.; Galveston, Texas; Bridgeport, Zoar (in Newtown), Milford, and Birmingham, Conn.; White 4061 Plains, N. Y.; and in Canada. He died, 23 Feb. 1873, in his 77th year, at Bushnell, Ill., and was buried there. She was living at 883 Michigan Avenue, Chicago, Ill., in Oct. 1875.         1 William Burgess was horn in Cheshire, and Martha Mort in Lancashire, England.
---
Our Lady of Refuge "St. Marys" Catholic Church Cemetery.
Doylesburg, Franklin Co., Pennsylvania.
Lots 1 through 25. (Eastern side of cemetery.)

9A MORT:
Norman A. / 1899 1974 / Mort.
(Note: On the Same headstone with 9B.)
9B MORT:
Mabel H. / 1899 1980 / Mort
(Note: On the Same headstone with 9A.)
9B (?) MORT:
In Memory of / Betty C. Mort Lacher / June 12, 1924-Jan 29, 1986 / Remains in Sunset Memorial / Albuquerque, New Mexico.
(Note: Memorial plaque located on ground in front of 9A and 9B headstone.)
9C MORT:
Thomas R. Mort / Apr 8 1935 / May 6 19

---
Our Lady of Refuge "St. Marys" Catholic Church.
Doylesburg, Pennsylvania.
Bible Dedication writings.

These dedication writings were copied by Reverend John Revord Campion, Pastor of Our Lady of Refuge "St. Mary's" Catholic Church. They were written from inside of bibles donated by family members to the church.

It was Father Campions intent as well as myself to have this information available for family members and fellow researchers to research their family.

In memory of Norman A. Mort by William J. and Mary Mort Vocke.

By William J. and Mary Mort Vocke. In memory of Mabel H. Mort.
---
http://www.emmitsburg.net/archive_list/articles/places_articles/business/houcks_store.htm
'Ed's Place' - Houck's Store
Ed Houck, Jr.
        In 1939, Ed & Agnes Houck, purchased the East side of the large, 3 story, building that was formerly the Annan Building from Brooke Boyle. This building was built after the great Emmitsburg Fire of 1863 that consumed nearly one third of the buildings from the square east. It was built by Mr. Hughes for Dr. Robert Annan and his brother , each had half of the building. With their practice and living quarters on the second and third floors it left the bottom floor for storing their buggies and other items. Over the years it housed a farm implements area, The C. F. Shuff Bicycle Shop, a small shooting gallery, a restaurant and possibly more businesses. With this addition now in the family, a full Ladies Store was put in to the first floor. Mother now ran the Ladies Dept. and Dad still had the Men's Store on the square.         Within a very short time, at the death of Charles Mort, my dad purchased the west side of the property from the Mort estate and after putting in a new front on the bottom floor with many large show windows, moved the "Ed's Place" men's wear department to make one large store for the entire family. This was then called "The Emmitsburg Quality Shop" or just "Houck's". It was " Clothing, Shoes and Gifts for the Entire Family". My Dad then had the entire building painted in Jersey Cream paint with Seal Brown trim from the Pittsburgh Paint Co. and purchased from FSK Matthews store on West Main Street. Picket fences were put up on the rear of the property and the shed was then covered with white asbestos shingles and trimmed to match the house. This shed was used only as a storage building even though it looked like a home on No. Seton Avenue.
---
http://www.emmitsburg.net/archive_list/articles/history_articles/abbreviated_history.htm
An Abbreviated History Of Emmitsburg
Originally Published in the Emmitsburg Chronicle, August 31, 1951
. . . The next brick house was built by the Hughes brothers. It stood on the northeast corner of the Square until 1863 when it was destroyed by the big fire. Dr. Robert L. Annan and his brother, J. C. Annan, rebuilt on the same site the house later being occupied by Mrs. R. L. Annan, J. Brooke Boyle, Charles P. Mort and now the J. Edward Houck family. The house destroyed by the fire was the cradle of the, Catholic Church in Emmitsburg, it contained a room where the Catholics assembled for worship before. their church was built. . . .
---
http://www.emmitsburg.net/archive_list/articles/people_articles/john_fuss/john_fuss_part_7.htm
The life and Times of John & Helen Fuss
John Fuss Jr.
The farm was located on the Emmitsburg-Harney Road, close to Middle Creek. The bridge had a plank floor, and was repaired every year or so by county workers. However, it would always make quite a rattle when vehicles crossed.
In 1936, the property just north of the farm became available for sale. It was owned by Charles Mort and was called the "Factory Farm" because the carpet factory had been located just upstream on Middle Creek. The factory had been powered by water to make carpet and other woolen products. There had once been about ten or more homes located in the area around it. The factory itself had been situated on the west side of Middle Creek. As a boy, I visited the ruins and foundations of the mill and the homes.
John Fuss purchased the east side of this property and Tyson Welty purchased the west portion. Both farmers added the new land to their property. John paid $400.00 for 98 acres of land. About 20 acres of this was tillable land and the rest was woodland.
A particular feature of this forest was the cedar trees. Virgin timber had been cut about 70 years before, and a great number of the cedar trees had grown back and were now in their prime. John sold the rights to these cedars to Mr. Seilik of the Baltimore area, who had two years to cut off all the cedar on this property. His workmen came and took the trees out by the truckload. I remember John helping out by using his two horses to pull the trees from inaccessible areas. For this right, Mr. Seilik paid $300.00. So the purchase of this land was a good deal, because the sale of the cedar trees almost paid for the total cost of the purchase price. Mr. Seilik did not complete the work because he was stricken suddenly and died. His business did not remove all the cedar trees, but picked and chose from certain areas.
---
http://www.emmitsburg.net/archive_list/articles/people_articles/obits/2000/Mr.%20Murray%20Eyler.htm
OBITUARY
Mr. Murray Eyler
Mr. Murray W Eyler, 89, of Gettysburg, Pa., and former long-time resident of the Rocky Ridge area, died Saturday, Jan. 15. He was the husband of Ruby L. Turvin Eyler, whom he married on Oct. 16, 1946. Born July 4, 1910, in Emmitsburg, he was a son of the late Ammon B. and Iva Mort Eyler.
Mr. Eyler was a member of Mount Zion "Haugh's" Lutheran Church, Ladiesburg. He devoted his life to dairy farming, operating the family farm in Rocky Ridge. In his younger years he was employed by the Western Maryland Dairy milk plant; he was also employed by Howard Johnson's in Baltimore.
He was a veteran of the U.S. Army, serving in World War II, and was discharged as a staff sergeant. During his military service he received many decorations and medals including the Bronze Star, World War II Victory Ribbon, European African Middle Eastern Service Ribbon and the American Theater Ribbon. He was very active in his community, was a life member of Rocky Ridge Volunteer Fire Co. and a member of the Veterans of Foreign Wars, Emmitsburg. He loved hunting and fishing.
In addition to his wife, he is survived by one son, Murray Thomas Eyler and wife Sandra Faye; two daughters, Linda Jenkins and husband Robert, and Judy Pierce and husband Butch; eight grandchildren, Murray Stephen Eyler, Jonathan Marcus Eyler, Sarah Jane Turvin, Sarah Elaine Jenkins,Diana Leigh Jenkins, James Edward Bradford, Melissa Gail Bradford and Michael Bradford; one great-grandson, William Joseph Bradford; two brothers, Roland Eyler and wife Hilda of Lewistown, and Tunnie Eyler of Walkersville; and one sister, Ruth Fraley of Catoctin Furnace. He was preceded in death by two brothers, Raymond and Reno Eyler; and two sisters, Helen McGraw and Maye Ardinger.
Interment was in Mount Zion "Haugh's" Lutheran Church Cemetery.
---
http://www.emmitsburg.net/archive_list/articles/people_articles/obits/2000/Mr.%20Sterling%20Sanders%20Sr.htm
Mr. Sterling Sanders Sr.
Mr. Sterling Raymond Sanders Sr., 56, of Olson Lane, Cascade, died Tuesday, June 13, at his home. He was the husband of Connie Sickle Sanders. Born June 27, 1943, in Emmitsburg, he was a son of Naidine Strayer Sanders of Thurmont, and the late Regis Raymond Sanders.
Mr. Sanders was a member of St. Joseph's Roman Catholic Church, Emmitsburg. He had attended Eyler's Valley Chapel. He was an employee of Mount St. Mary's College at the time of his death, where he had worked 38 years in the preventive maintenance department. Mr. Sanders was an avid hunter and fisherman.
Surviving in addition to his wife are six children, Laurie A. Sanders of Emmitsburg, Brenda L. Eyler of Thurmont, Naidine T. Sanders of Eagle Bay, N.Y, Leah R. Mort of Carroll Valley, Pa., Doris L. Taylor of Taneytown, and Sterling R. Sanders Jr. of Cascade; two stepsons, Richard E. Click of Hagerstown, and Joseph A. Click of Thurmont; five grandsons; and five brothers and sisters, Harold C. Sanders of Thurmont, Marie M. Ohler of Flarnhan, Va., Kathleen E. Lawson of Rocky Ridge, and Roland F. Sanders and Bonnie E. Rexroth, both of Emmitsburg.
A Mass of Christian Burial was held June 16 at Mount St. Mary's Chapel of the Immaculate Conception, with Monsignor Hugh J. Phillips as the principal celebrant. Interment was in Mount St. Mary's Cemetery, Emmitsburg
---
http://www.emmitsburg.net/archive_list/articles/people_articles/obits/2000/Mrs.%20Roselea%20Wetzel.htm
Mrs. Roselea Wetzel
Mrs. Roselea Regina Manning Wetzel, 84, of Waynesboro Pike, Emmitsburg, died Monday, Feb. 7, at the home of her granddaughter, Roxanne Andrew, Cool Road, Emmitsburg. She was the wife of William Guy Wetzel, who died in 1957. Born Jan. 3, 1916, in Chewsville, she was a daughter of the late John Michael and Mary Ellen Snyder Manning. She was a member of Trinity avid bingo player.
She is survived by two children, Ellen Marie Staub and Sandy Lee Wormley, both of Emmitsburg; 14 grandchildren; 26 great-grandchildren; and one sister, Goldie Andrew of Emmitsburg. She was preceded in death by four daughters, Doris Mae Wetzel, Agnes Louise Glass and infant twin girls; two sons, William Ray Wetzel and Howard LeRoy Wetzel; three sisters, Rita Wetzel, Teresa Mort and Margie Manning; and two brothers, Herman Manning and Floyd Manning.
Funeral services were held on Feb. 10 at Skiles Funeral Home. Interment was in Friends Creek Cemetery, Emmitsburg.
---
http://www.emmitsburg.net/archive_list/articles/people_articles/obits/2004/Mrs.%20Anna%20Martin.htm
Mrs. Anna Martin
As originally published on Friday, October 1, 2004.
Mrs. Anna Margaret Sayler Martin, 80, of Dern Road, Emmitsburg, died on Thursday, Sept. 30 at the Kline Hospice House, Mount Airy.
Born August 30, 1924 in Motter Station, Rocky Ridge, she was a daughter of the late James M. and E. Grace Riffle Sayler. She was preceded in death by her husband, George J. Martin on December 24, 1963.
She was a member of Incarnation United Church of Christ, Emmitsburg, where she was on the consistory for 15 years and served as deacon and elder. She was a former Sunday school superintendent; a member and former officer of Women's Guild; a member of Emmitsburg senior citizens; founding member with her husband of the Emmitsburg Grange and Emmitsburg Farm Bureau; original member of the Emmitsburg community chorus for 35 years where she was privileged to sing at the canonization of St. Elizabeth Ann Seton; a member and past president of Emmitsburg council of churches; a member of the Emmitsburg food bank; a member for 63 years and officer of Emmitsburg High School alumni association; and she was a board member of the Emmitsburg Memorial Cemetery.
She worked at Sayler's Store, Motter Station and was meal manager for the dept. of aging at the Emmitsburg food and friends for 13 years until her retirement in Dec. 1997.
She is survived by four children, Susan E. Allen and husband Jay of Emmitsburg, James D. Martin of Hagerstown, Edith Long of Emmitsburg, and John R. Martin and wife Imogene of Frederick; grandchildren, Brian T. Long, Angela S. Forrest and husband Pete, Rebecca H. G. Allen, David G. Allen, Christopher G. Martin; great grandchildren, Victoria A. Long, Taylor N. Long and Jordan B. Long; sister-in-laws, Blanche Sayler, Pearl Sayler, Anna Mort, Gladys Keilholtz; brother-in-law, Bernard Fink Sr.; and many friends at Emmitsburg Senior Center.
Funeral services will be held on Monday, October 4, at 11 a.m. from Incarnation United Church of Christ, 124 W. Main St., Emmitsburg, with her pastor the Rev. Reginald Rice officiating, assisted by the Rev. Ted Haas. Interment will be in Emmitsburg Memorial Cemetery, Emmitsburg. Pallbearers will be Jay Allen, Brian Long, Pete Forrest, David Allen, Chris Martin, Brian Glass, Jim Keilholtz and Bernard Wivell.
---

        Corsie Mort Stamper b. Nov. 28, 1917 d. Dec. 6, 1917; Father: Leslie Stamper b. KY; Mother: Lillian Wheatley b. KY; Cause: baby was found dead in the bed- was well when family went to sleep Informant: George Brooks; Wolfe County; Burial: Stamper Cemetery
---
HILL CITY TIMES

Mrs. Worcester Clark
Melva Lorraine was born on April 30, 1912, in Hill City, Kansas and passed away near Bucklin, Kansas on November 6, 1938, at the age of 28 years 4 months and 24 days. She received her education in the Hill City schools and graduated from the Hill City High School with the class of 1933. On July 25,1929 she was United in marriage to Worcester Clark at Hoxie, Kansas. To this union was born two children, Melva Jeanne aged 8 and Kathryn, aged 7. She is survived by her husband, Worcester, her two daughters, Melva Jeanne and Kathryn, her parents Mr. and Mrs. I. R Mort and one sister, Dr. Allene Mort, of Siloam Springs, Arkansas, and many other relatives and friends. From her early youth, Melva has been vivacious and energetic, with a cheerful disposition ignoring discouragement and filling her life with her family and friends. She and her husband and family spent several seasons on a farm in Graham County, and after numerous crop failures went to the west coast where she spent several months, returning to Hill City in August. Then came the opportunity of furthering their education which to these ambitious young people was significant of the fulfillment of hopes and plans. Melva went to Wichita, Kansas, on October 2, to study beauty culture and Worcester began work on a C.P.A. course. It has been so great a privilege to have had her these few short years, in our homes, and the part of herself that she gave to each one of us will always be our most treasured possession.
Card of Thanks
We cannot express in words how much the kindness of our friends has helped us in the time of our bereavement. Please accept our sincerest appreciation for the many acts of kindness, for the beautiful flowers and for the lovely songs. Worcester Clark, Melva Jeanne and Kathryn, Mr. and Mrs. I. R. Mort, Dr. Allene Mort, Mrs. Kate M. Jackson.
HILL CITY TIMES

Mrs. I. R. Mort
Myra L. Allen, daughter of Robert and Anna (Higgins) Allen was born January 14, 1878 in Republic County, Kansas, and passed away at her home in Hill City, Kansas, May 9th, 1942. She came to Graham County, Kansas with her parents in the spring of 1884 where the father, with his family, settled on a homestead in Indiana township. Myra attended and graduated from the South Star school and later taught several terms of school in Graham County. On Christmas Day In 1997, she was united in marriage with Ivan Roy Mort. To this union two children were born, Allene Mort of Siloam Springs, Arkansas, and Melva Mort-Clark who died in November 1938. Myra Mort, as we all knew her, was a loving and dutiful wife and mother. She leaves to mourn her passing, her husband and daughter; two sisters, Mrs. Kate M. Jackson of Hill City, Kansas, Mrs. Bessie Kline of Lenora, Kansas and one brother, Robert G. Allen of Hoxie, Kansas, and two grandchildren, Melva Jeanne and Kathryn Clark of San Pedro, California, and a host of other relatives and friends.
Funeral services were held from the Presbyterian church, Tuesday afternoon, May 12, at 2 o'clock. Rev. G. C. Milner and Rev. C. H. Harrell, officiating clergymen. Burial was made at the Hill City cemetery. Card Of Thanks - We wish to thank all our friends for the kindness and sympathy shown in our recent bereavement and for the many beautiful floral offerings. I. R. Mort and Allene, Mrs. Kate Jackson, Mrs. Bessie Kline and family, Robert G. Allen and family, Mrs. Maude Wagner and family.


HILL CITY TIMES
Ivan Mort
Passes Away.
        Ivan R. Mort, 90, a former banker and Postmaster and a longtime resident in Hill City, passed on Friday March 20 in the Asbury Hospital in Salina. He had been a resident of Hill City for 89 years. Funeral services were held at 2:00 p.m., Tuesday, in the Spencer Chapel in Hill City with the Rev. Jack Harris of the Hill City Methodist Church officiating. Music was furnished by Mr. Randall Weller, soloist; and Mrs. Ed Jantzen, pianist. Honorary bearers were: Ed Jantzen, Ernest Ohman, E.W. Dunning, Casey Jonas, Bryan Parker, Homer Dorman, Henry Farr, and O. D. Gauthier. Casket bearers were: Earl Radcliffe, Henry Hansen, Alvin Scranton, Oscar Brown, Hobart Radcliffe, and Jay Parks. Burial was in the Hill City Cemetery where the Millbrook Lodge No.281 held Masonic graveside services. Survivors include one daughter, Miss Allene Mort of Hill City; one brother, Carl G. Mort, Chico, California; two granddaughters and eight great grandchildren. Colonel Mort was a charter member of the Hill City Rotary Club. He was also a member of the Millbrook Masonic Lodge No.281 and the Millbrook Chapter No.108 of the Order of the Eastern Star.
A memorial fund has been set up for the Hill City Library Association to preserve the history and records of Graham County. Contributions may be left with or sent to Bob Boyd, editor, at the Hill City Times office.
---
HILL CITY TIMES
Thursday, March 18, 1976
PAGE 10, SECTION 2
ALLENE MORT
        Allene Mort was born Feb. 21, 1909 to Ivan Roy Mort and Myra Allen Mort in Hill City, Kansas. She passed away March 8, 1976. Allene was raised in Graham County, attending schools in Hill City. She graduated from the Hill City High School with the class of 1926. She attended and graduated from Kansas State College of Osteopathy in 1934. She attended Kirksville College of Osteopathy graduating in 1948 as an Osteopathic Surgeon. She attended various Universities for 22 years. Allene passed the state boards of Colorado, Arkansas, Missouri, and Kansas. She set up her first practice in Siloam Springs. Arkansas, where she lived until she came to Hill City in 1954 to take care of her father and started her practice here. Allene loved history and enjoyed with her father the Graham County Historical Society. She acted as secretary of this organization for many years. They were instrumental in compiling many stories, pictures and books on the history of Graham County. She also enjoyed Genealogy and belonged to many genealogical societies. She attended many archives and lectures learning to follow her lines. Allene was active in the Hill City Alumni Association, and in the Business & Professional Women organization. She also was a member of the Eastern Star. Allene enjoyed traveling and never hesitated to get into her car and travel alone, seeing places and things she had read about. She was preceded in death by her mother, father and sister, Melva Mort Clark. She is survived by two nieces, Mrs. Thomas (Melva Jeanne) Adamson of Pleasant Grove, Utah; and Mrs. LaVar (Kathryn) Loveless of Huntington, Utah; 4 great nephews and 4 great nieces, 2 great great nephews and 1 great great niece. There are also many cousins and friends left to mourn her loss.
---
MRS. ALICE LAYTON DIES
Alice Rathbun was born at Kewanee, Illinois, January 8, 1872 and died at Odell, Nebraska, December 7, 1946 at the age of 74 years, 10 months and 29 days.
At the age of 10 years she came to Nebraska with her parents, locating on a farm 1 mile north of Odell where she has since resided.
On August 27, 1893 she was united in marriage to Andrew I. Layton. To this union three children were born; Arthur L. and Ralph J. of Tyner, Saskatchewan, Canada and Martha A. Fisher of Blue Springs, Nebr. She is also survived by three grandchildren, Phyllis ann, Patty Arlene and Dorothy Alice all of Tyner, Sask. Canada; one brother , Lewis Rathbun of Odell; two sisters, Mrs. Carrie Neff of Lincoln and Mrs. Lizzie Mort of Nebraska City and a host of other relatives and friends.
When a young woman she was baptised into the Methodist Church at Odell where she has been an active and conscientious worker.
Mrs. Layton's health began to fail about ten years ago, which hindered her somewhat in the activities of her church and community. However she continued as her strength would permit and was active until the last.
On December 7th she answered God's call and passed over the Great Divide to be with her Lord and Saviour, Jesus Christ, who has been her strength for so many years.
Services were held Tuesday, December 10th from the Odell Methodist Church with Rev. J.C. Lowson officiating. Burial was in the Odell Cemetery.
One son, Ralph was unable to attend due to distance and unavoidable circumstances. The other two children, Arthur and Martha were able to be with their mother before her death and to attend the services.
Out of town relatives attending the funeral of Mrs. A.I. Layton Tuesday were Mr. and Mrs. C.S. Mort and Mr. and Mrs. Wm. Mixon of Nebraska City; Mr. and Mrs. Wm Lissenmeyer of Marshallton, IA; Mrs. Ida Townsend of Cook; Mr. and Mrs. John Mueller, Mr and Mrs. Earl Dean and Mrs. Tom Woods of Hollenberg, Kans.; Mrs. Iva Gary of Lincoln; Mr and Mrs. Leonard Payne and Mrs. Irene Castle of Steele City; Mrs. Maude Beaver of Davenport; Mrs. Bessie Rathbun and family of Omaha; Mr and Mrs. Joe Kasparek, Mr and Mrs. Owen Hawkins and Mrs and Mrs. Jesse Rathbun and family of Beatrice; Mr. and Mrs. Clyde Rathbun and Mr. and Mrs. George Hunnicutt and family of Wymore; Mrs. Clarence Bok of Falls City and Mrs. Madeliene Wolbrant of Hanover, Kans.
---
The Winchester Star
Winchester, Virginia
October 10, 2000
Anna W. Pfeiffer
Anna Wright Pfeiffer, 88, of Winchester, died Saturday, Oct. 7, 2000, in Berryville.
Mrs. Pfeiffer was born Sept. 19, 1912, in Bland County, the daughter of John Bowman and Lila J. Chandler Wright. She had worked as a riveter on aircraft during World War II at the Bethlehem-Fairfield Shipyard in Baltimore. She later worked as a seamstress at Lebow Brothers Tailor Shop in Baltimore. She was married to Albert Roland Pfeiffer, who died in 1973. Her first husband was Milton Shoemaker. Surviving are a daughter, M. Jane Mort of Winchester; four sisters, Minnie S. Williams and Ina K. Ramsey, both of Bland, and Edna K. Vaught and Ruby Lee Hale, both of Narrows; two grandchildren; and a great-grandchild. A daughter, Ruby N. Shoemaker, is deceased. A funeral will be at 11 a.m. Thursday at Shiloh United Methodist Church, Bland, with family members officiating. Burial will be in the church cemetery. Pallbearers will be nephews and grandsons. The family will receive friends from 3 to 5 p.m. today at the chapel of Michael R. Phelps & Associates Funeral Directors, Stephens City, and from 7 to 9 p.m. Wednesday at A. Vest & Sons Funeral Home, Bland County. Memorials may be made to Shiloh United Methodist Church, Hollybrook.
---
Return to the Mort Family Homepage


Write to DrG@execpc.com


Mort Photos - 1880 - Mort Research - 1994 - 1995 - 1996 - 1997 - 1998 - 1999 - 2000

2001 - 2002 - 2003 - 2003 - 2004 - 2005 - 2006 - 2007
---
December 31, 2004